SCUDERIA FERRARI STORE EXCLUSIVE
On board the F2003 GA, this collectible original engine won the Constructors' and Drivers' Championships in one of the most competitive Formula 1 seasons in history.
The F2003 GA is the 49th single-seater built by Ferrari to participate in the Formula 1 World Championship. Its ground breaking longitudinal rear engine, 10V 90°, with a capacity of 2997 cm3 and a maximum power output of 621 kW (845 hp) at 18,300 rpm, was the key to two major feats. With 8 different winners in the 16 events on the calendar, the F1 2003 season held its breath right up to the last round, when Michael Schumacher won the Suzuka race, becoming the most successful driver ever and bringing Scuderia Ferrari its fifth consecutive Constructors' title. A few days later, at the military airport of Grosseto, the same engine challenged pilot and astronaut Maurizio Chieli three times in the Eurofighter Typhoon aircraft, and in the first round covered an incredible 600 meters in 9.4 seconds. The F2003 GA engine is now a priceless collector's item, guaranteed by the certificate of origin signed by the Scuderia Ferrari Team Principal.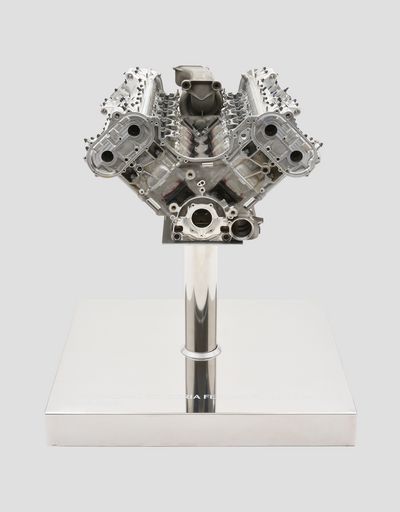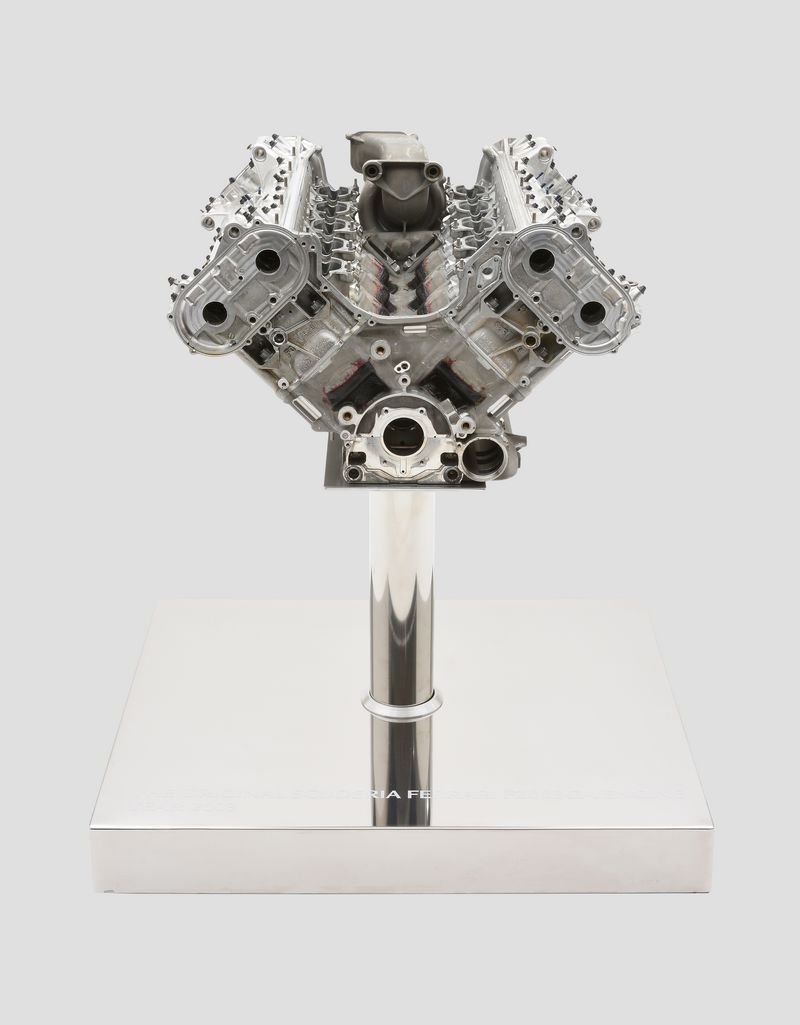 6 TIMES 1ST PLACE

TWICE 3RD PLACE

WORLD

CONSTRUCTORS

MICHAEL SCHUMACHER

RUBENS BARRICHELLO
F2003 GA
The Japanese GP 2003: On the 12th October of that year Scuderia Ferrari won the fifth consecutive World Constructors' Championship and Michael Schumacher won his sixth world title and broke the record of five titles held by award-winning Argentine champion Juan Manuel Fangio.
WHEN THE F2003
TOOK ON THE EUROFIGHTER TYPHOON
On 11th December 2003 newly crowned World Champion Michael Schumacher decided to take on an unusual opponent in his F2003 GA: the Italian Air Force Eurofighter Typhoon fighter jet. A battle took place on the runway at Baccarini military airport in Grosseto, where two outstanding Italian names challenged each other over three different distances: 600, 900 and 1200 metres. At the controls of the jet sat Maurizio Cheli, Italian air force pilot and astronaut who beat the German champion in two out of the three races.
1st SPRINT - 600M 
Ferrari F2003 9.4 sec / Eurofighter 9.6 sec
2nd SPRINT - 1200M 
Ferrari F2003 16.7 sec / Eurofighter 14.2 sec
3rd SPRINT - 900M
Ferrari F2003 13.2 sec / Eurofighter 13 sec