SCUDERIA FERRARI STORE EXCLUSIVE
Women's polo shirt with laurel embroidery
A new personality is given to this classic women's polo shirt from the Scuderia Ferrari Collection, brought to life with embroidery and a zipper fastening.



Made in technical piquet with SPEED DRY that guarantees coolness and comfort, this women's polo shirt with its iconic charm is customized with a feminine front closure and deep neckline with a half zipper.




The iconic laurel motif embroidery, a symbol of victory on race tracks, embellishes the undercollar, which is meant to be worn raised for that racing look.




This short-sleeved polo shirt for Scuderia Ferrari enthusiasts is unique with an elegant charcoal gray version of the Shield on the chest.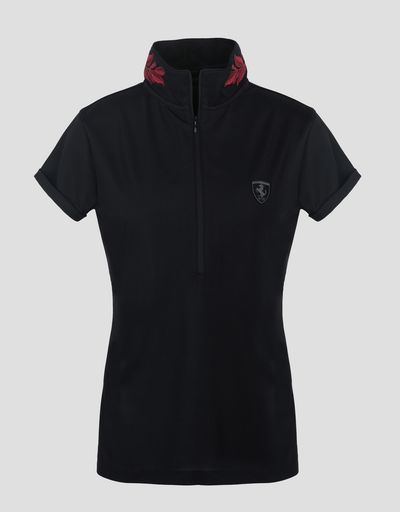 Speed dry
Scuderia Ferrari Speed ​​Dry is a new high-wickening textile always fresh and comfortable.